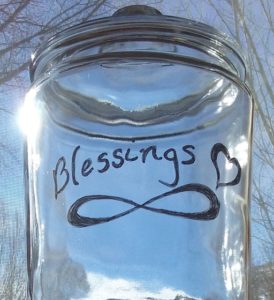 As the year draws to a close, and the short days begin to stretch longer once more, I love embracing the tradition of reflection and renewal.
As we consider New Year's resolutions, we often focus on self improvement: finding way to adjust, to grow, and to develop new skills.  Self-improvement can be lovely.  And yet, as we begin 2017, I've felt pulled to soften more deeply into appreciation for the beauty of What Is.
There is always such beauty in what is already present – the small kindnesses that fill each day, the fortuitous opportunities that open new paths, the celebrations of art, music, and words that ignite our spirits, the joy felt in sharing a good belly laugh or in service to others, the deep peace of a grace-filled meditation or outdoor experience, and so much more.
This year, I decided to bring in a new (to me) tradition: a Blessings Jar.  I am waiting until 2017 to begin filling it.  Even so, it has been sitting prominently on my counter top, frequently encouraging me to reflect on gratitude.  It has already been a blessing in attuning my eyes to the beauty that I'd love to add to it each day – snippets of joy that I'll eagerly add as soon as the new year comes.
Perhaps you have a similar tradition or resolution, or perhaps yours are in wonderfully different directions.  Wherever your reflections bring you, I hope you find much love, joy, and fulfillment in the new year.
P.S. If you'd like to read more about research into the importance of choosing mind-states, I found this recent article by Dr. Travis Bradberry, Author of Emotional Intelligence 2.0 (nothing I'm affiliated with except as an internet reader) interesting.